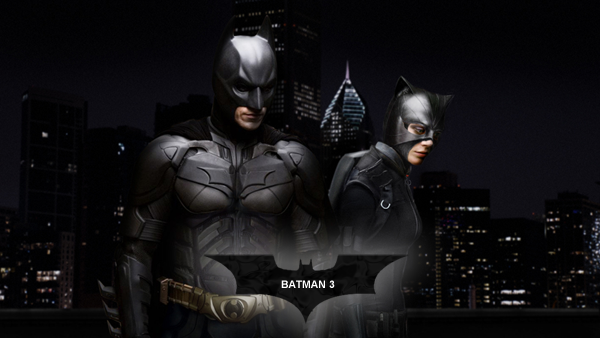 Yeah, I know, The Dark Knight hasn't even been out for a month, but I wanted a seperate topic for speculation on the sequel. Apparently near enough every single actor from TDK wants to return (Heath Ledger more than any, I assume...), and I read somewhere that Nolan wants to make it into a trilogy then leave. Bale's also said he'd only return if Nolan does. That sounds promising enough to believe that there will be a sequel.

With the huge success of the follow-up to Batman Begins, it's hard to determine what DC & WB will want to do with this. Will they stick to making money off TDK, or will they want to cash-in on an early sequel? I'm not sure, but I reckon the sequel would be released between 2010 and 2012, leaving plenty of time to make another masterpiece.

Obviously, Batman 3 will see Mr. Black Pants on the run from the boys in blue, which will highly restrict his relationship with Gordon. Instantly, you can tell where I'm going with this, so I'll get it out of the way...



The Robin Issue






I know everyone's gonna have problems with Robin returning to the films, and I understand. Who wants a kid runnin around in tights, following Batman, gettin captured, then instigating the inevitable "Batman has to save Robin's arse" scenario. Don't think like that. In the comics, cartoon, and 60s TV series he is and was that kinda guy. But look at Batman too. He was in grey tights. What's he look like in the Nolan series? Exactly. So the first major issue people need to deal with (yes, even

before

the age thing) is his suit, because in this film series, the right look is

everything

.

Before I get into the suit issue though, lemme make this clear - I don't want a traditional Robin. I want a late teenage dude whose parents are murdered right infront of him and Batman, but Bats is too late to save them. Bla bla bla, one thing leads to another, the dude wants to help him out by being places that moody bollocks can't be, then radioing him when he's needed. Obviously they would need codenames, and the dude's would be Robin, as he wears the motorbike helmet from the Batman & Robin film (couldn't find a picture of it, but it's similar to the one from Batman Forever, only a full-head w/visor helmet). All he'd need is a motorbike, leather jacket, helmet, and radio. There you have it. Robin.




Or, if you'd prefer a Nightwing style, you could go for this:




Then again, the Robin fanboys in the world (all three of them) would probably want him to be more like Batman in terms of costume, and not just some downgraded version. The following images could be adapted quite easily to fit a TDK-style armour suit. However, the colours would have to be toned down dramatically, and it'd look kinda stupid anyway. Besides, I prefer my idea.




So I think it's safe to say that Robin could be introduced quite easily. DC & WB may want it, as do around 20-30% of the fans of this franchise, but Nolan and Bale don't. And if they don't want him, then I doubt he can withstand the rejective powers of the two main dudes behind the whole thing. Onto the next, yo...



Two-Face Is Dead



Or at least he better fuckin had be. I don't want that lame "oh, he's locked up at Arkham" excuse everyone's givin. If Dent's alive, then Ra's defo will be, and no one wants that. We don't want the writers dippin their pens in an inwell filled with the juice from the Lazarus Pit, or at least I don't. Dent should be dead. End of. And the Joker should be in Arkham. A brief mention here or there, maybe, but no fucking appearances, unless they use some leftover footage of Heath that never made it into TDK, and even then it'd still have to make sense.




Matches Malone



If Batman's working alone, he's gonna need eyes and ears on the streets, as I mentioned in the Robin section. For those who don't read the comics, Matches Malone is a persona Bruce Wayne takes on when looking for answers during the day down on the streets, usually donning a ridiculously convincing disguise (which blatantly wouldn't work in Nolan's universe, but fuck it). Personally, I'd love it if Batman infiltrated a gang as Matches Malone then gettin into tight situations where he's ordered to kill someone. It'd play out kinda like Splinter Cell: Double Agent, and he'd probably have to rely on Batman a lot less, which would be a sensible thing to do considering the manhunt.




The Villains



The most widely speculated element of the third installment - even before the release of The Dark Knight - is which villains will appear in Batman 3. Well, in alphabetical order (coz it's unbias and nice n tidy), I'll list who, why, and how:



Bane:

An ex-wrestler pumped up on steroids has now joined a huge mass of masked crime in Gotham. I know that in the comics he's super-intelligent, doped up on super-steroids, and probably gives bitches (and maybe dudes) super-AIDS, but we're keeping shit as 'realistic' as possible, so he'd probably act as one of Black Mask's main thugs.



Black Mask:

A new mob dealer - let's keep his identity unknown - who has a passion for pain. Loves torturing victims, rival gang members, etc. He's taken advantage of this new 'masked-criminal' fad, and hires only the best, required that they wear a mask.



Calendar Man or Holiday:

A serial killer who strikes on certain holidays or days of the year. Basically, it'd be completely ripping off The Long Halloween, but it would create a huge murder mystery, and in the end would help Gordon's team realise just how important it is to have Batman around, thus putting an end to their pursuit of the 'caped crusader' (damn I hate that name!)



Catwoman:

Let's fuck the thief thing off. Batman 3 could be set a year or so later, and the GCPD haven't got anywhere near capturing the Dark Knight (that's more like it..), mainly thanks to Gordon's intervention. So the FBI or CIA or someone else high up are called in, and send someone undercover, someone who could trick Batman, someone who he could 'relate' to. This person being Catwoman. IMO, that's the only way should be realistic. He witnesses a crime that she doesn't commit, and the whole GCPD go after her too. Sympathising with her situation, he helps her, and she ultimately stabs him in the back. No doubt they should have that passion evident in the films, but she's still a bad guy, and it wouldn't be very Catwoman for her to

not

screw him over.



Deadshot:

If the Gotham Knight anime really

is

set between Batman Begins and The Dark Knight, then why the hell not incorporate him?



Hush:

This dude could also be an assassin, hired by the mob to kill Batman. What Batman and Hush don't know is that they were childhood friends. When they both uncover eachother's identities (at different times, of course), this would lead to a huge showdown that would determine what mattered most.. friends or money. To compensate for the fact that a surgeon would not need money, we could always say he's been globally banned or some shit.



Mad Hatter:

Now this would be interesting. He could be a midget pedophile who lures little girls to come 'play' with him, using the Alice in Wonderland thing as a manipulation technique. Too sickening? Maybe, but I reckon it could work. Maybe not as the lead villain, but as a criminal Batman or Gordon take down.



Mr. Zsasz:

I

really

wanna see this madman return. We didn't get to see what he could do in Batman Begins, so I'm sure he could do well as a secondary villain.



Penguin:

Corrupt owner of the Iceberg Lounge.. a night club where the mob gather. However, he goes by his real name - Oswald Cobblepot, and he is only called Penguin once by someone coz he's fat and wears a penguin suit (you

know

I mean tuxedo..) Dunno how he could be a main villain, let alone an actual villain, he'd just be a secondary character really. Unless of course he becomes one of Batman's informants. Provided Bruce is okay with paying for info...



Riddler:

Yes, he would work best as Mr. Reese. Instead of leaving clues to crimes though, he could be sending the GCPD clues to Batman's true identity. So Batman must stop him before his secret is exposed. Maybe he could be doing this to distract them while he robs banks too. He could even be working with William Earle in an attempt to completely destroy Bruce Wayne, who they both seem to hate him with a passion (someone I hate could save my life, and I'd still hate the guy). Again though, he wouldn't be a good main villain, unless there is less emphasis on 'villains', and more on how Bruce deals with being a fugitive vigilante living in the public eye, and how it puts a strain on his relationship with Gordon.



Scarecrow:

It'd be a nice touch if he's constantly runnin around the city with his fear toxins, as it could be one of the main reasons Gotham's goin insane. Plus, the fact that he used to work at Arkham means that he'd be able to pull strings (let's not forget how corrupt the city's supposed to be).



Two-Face:

is DEAD, damnit!!!

So there you have it. And before you try mentioning villains like the Ventriloquist, Mr. Freeze, the Reaper, Red Hood, Hugo Strange, etc., etc., etc., I'm tryna keep it realistic to Nolan's style, instead of what I'd like to see.

Now I'd like to know what you think about Batman 3, what could happen n shit. And yes, it is sad I've made a huge topic about a TDK sequel so soon, but more of you know about the film than the comics, and a Batman R.I.P. topic would just fizzle out.

(Oh, and in a year or two when it's announced, I'll replace all this first post with news n shit)