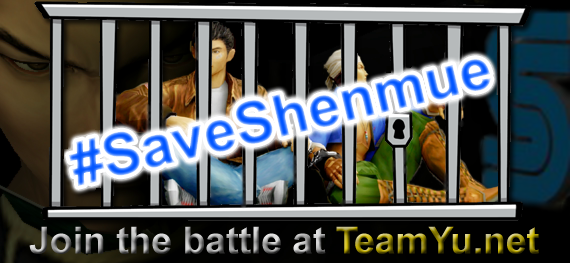 We figured it was best to start a new thread that dealt with current campaign details, rather than expecting newcomers to wade through pages of outdated information in
the original Team Yu topic
.
From March 2012 to December 2013, with the help of several fan groups like Shenmue 500K, Shenmue UK, Shenmue Master, and of course Shenmue Dojo, we have been co-ordinating a monthly Shenmue Tweetathon every 3rd of the month, using the hashtag #GiveYuTheShenmueLicense. This has been supported by the likes of Sumo Digital's Steve Lycett, Prince of Persia creator Jordan Mechner, gamesTM magazine, 1UP.com, Sega Nerds, comedians Imran Yusuf and Matt Walker, French musician Kavinsky, former Puddle of Mudd guitarist Paul Phillips, Virtua Fighter composer Takayuki Nakamura, and the voice of Ryo Hazuki himself, Corey Marshall.
On January 3rd 2014, the Tweetathon undergoes a New Years evolution, expanding onto Facebook and Tumblr along with Twitter, using the new hashtag #SaveShenmue.
The aim is to keep exploiting the public platform of social media to raise awareness of gamers' discontent with Sega, and their refusal to fund a revival of this unfinished series and provide their customers with the closure we've been awaiting for over a decade. At the same time we aim to appeal to console manufacturers like Sony, who recently expressed an interest in pursuing Shenmue as one of its most highly requested titles for the Playstation 4, asking them to step in and help drag Sega kicking and screaming into the realms of customer satisfaction.
To help make Yu Suzuki's unshakable goal of Shenmue III a reality, we ask all gamers to follow the three simple steps at
TeamYu.net/SaveShenmue
every month, maintaining the pressure on all concerned. Please spread the word and be heard on the 3rd - Team Yu needs YOU to #SaveShenmue!